Energy Insights: July 3, 2012
NG futures modestly lower today as expectation of excessive heat have eased per the current 11-15 day forecast. Nevertheless, above normal temperatures are expected across most of the continental U.S., so weather will still offer some price support.
Overview
(1) On Friday 6/29/2012, the August 2012 NYMEX NG contract settled at $2.82/MMBtu, $.16/MMBtu higher than on 6/22/2012.
(2) CAL 2013 closed $.07/MMBtu higher than on 6/22/2012.
(3) CAL 2014 closed $0.09/MMBtu higher than on 6/22/2012.
Natural Gas
On 6/28/12, EIA reported an injection of 57Bcf, which was higher than analysts' estimates, but well below historic levels. The injection for the week that ended on 6/22/12 narrowed the inventory surplus compared with last year and the five year average.
Below you will find NYMEX NG's August-2012 price daily chart. Even though weather has been a major driver in the recent rally, hedging strategies should incorporate technical indicators to set targets. The chart below shows very choppy trading around $2.80/MMBtu, but Wednesday's 6/27/12 shooting star (red circle below), where the front month pulled back right after hitting $2.98/MMBtu is a bearish indicator.
In light of such a resistance level, we are showing a channel where we expect the August-2012 contract will trade; however, if we do break through $3.00/MMBtu, the next resistance level would be $3.16/MMBtu. Our outook would be bullish on the breakout, but we do believe that $3.00 will be resistive.
Consistent with previous reports the table below shows factors that affect supply and demand: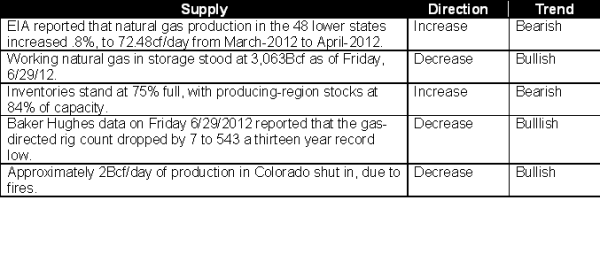 In short, natural gas has been volatile during the past two months, and such volatility can be explained by the tightening between supply and demand. We do expect that injections will continue to underperform due to high cooling demand and signs that producers continue to cut production. The question to consider is if the above normal temperatures will be enough to trim record inventories to avoid a premature filling of storage caverns. We continue to favor the buy the dip strategy; however, we also recommend having short term stop loss targets to protect against adverse price movements.
ERCOT Heat Rates
August 2012 and forward summer heat rates (July & August) rose not only because of the record temperatures reached in June, but also because of the $4,500/MWh system wide offer cap approval. Nevertheless, forward fixed prices are very attractive compared to historic levels.
Contact: Your Acclaim representative to discuss how to take advantage of current price shifts.