Energy Insights: June 14, 2012
Today the NYMEX NG July-2012 contract settled 14% (or $.298/MMbtu) higher and CAL-2013 settled 4.2% (or $.14/MMbtu) higher compared to yesterday's marks. Prices continued the upward trend in after hours electronic trading. This week we cover how to manage current volatility and avoid getting caught in a short squeeze.
Overview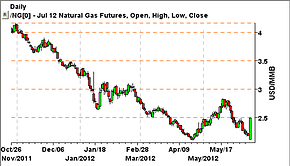 (1) On Wednesday 6/14/2012, the July 2012 NYMEX natural gas contract settled at $2.495/MMBtu, $.196/MMBtu higher than on 6/8/12.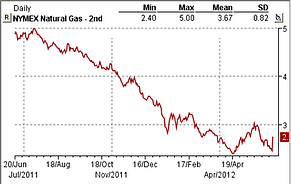 (2) 2nd half (July - December) CAL 2012 closed $0.18/MMBtu higher than on 6/8/2012.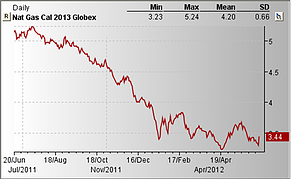 (3) CAL 2013 closed $0.5/MMBtu higher than on 6/8/2012.
Natural Gas
Prices rose sharply today, 6/14/12, as EIA's reported a smaller than expected increase in storage levels. The report narrowed the inventory surplus compared with last year for the ninth consecutive week.
The release caught traders by surprise as the market was expecting a higher injection compared to that of last year for the same week. This sparked a short covering and technical rally that never lost momentum throughout the day. The July-2012 rose 14% (see chart below), currently trading around the $2.50/MMBtu resistance level.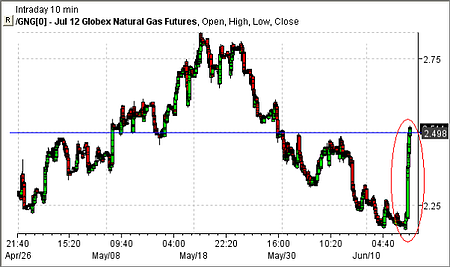 Consistent with previous reports the table below shows factors that affect supply and demand: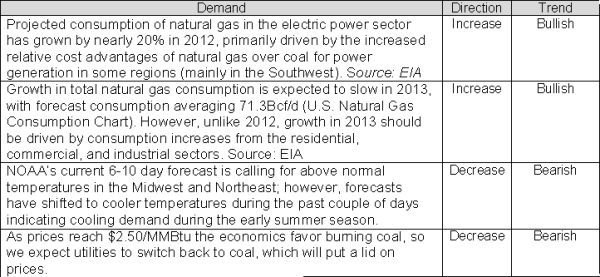 In short, the Bulls and the Bears are fighting within a $2.20/MMBtu and $2.50/MMBtu range. We believe that weather will play an important role the next couple of weeks as it relates to price swings within this range. We are seeing a pattern where the market perceives gas under
$2.20/MMBtu as undervalued. By the same token, prices above $2.50/MMBtu will face significant head winds as utilities switch back to coal. The final piece of the equation as we approach the heart of the summer season has to do with market expectations reaching maximum capacity limitation before the end of the injection season. We continue to have a neutral outlook, and recommend observing support levels as technical buy signals. Buy the dip strategy is still in place.
ERCOT Heat Rates
2012 summer heat rates (July & August) have been volatile and increased during the past week; however, today's spike in natural gas prices will most likely provide good buying opportunities for customers seeking a heat rate product.
Contact: Your Acclaim representative to discuss how to take advantage of current price shifts.