Weather continues to be a major natural gas and electricity price driver, and recently has limited the downward move ahead of the summer. The latest near-term weather forecasts are calling for above normal in the West and the Eastern third of the country, boosting expectations of cooling demand. The Energy Information Administration projected that during the 2015 summer, average consumption of natural gas for power generation will likely reach 26.7 billion cubic feet per day (Bcf/d). The record for summer natural gas-fired power generation was set in 2012, when consumption averaged 27.9 Bcf/d. How close we get to such record will be a function of the low natural gas price environment and how much summer temperatures raise demand for gas-fired generation to provide air conditioning.
The latest National Oceanic and Atmospheric Administration (NOAA) Jun-Jul-Aug 2015 seasonal forecast (see maps below) is calling for seasonal to below normal conditions across a large part of the central United States. Besides an effect from El Niño, cool conditions in Oklahoma and Texas are linked to the massive amount of rain in the region in May. Wet soils tend to cool temperatures off (source: NOAA). Warmer conditions are expected in the West and some parts of the Mid-Atlantic States and Florida.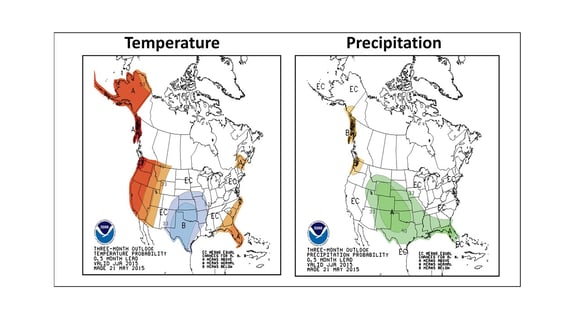 2015 Hurricane Season
On June 3, 2015, NOAA Climate Prediction Center (CPC) released their official 2015 Atlantic hurricane season outlook. The projection is consistent with earlier forecasts of a season with a lower than normal number of named storms in 2015, compared to historical averages. The table below shows the 30-year average, the Colorado State University projection, NOAA's forecast and The Weather Channel's outlook (source- The Weather Channel).
| | | | | |
| --- | --- | --- | --- | --- |
| Total Named | Average | NEW CSU | *NOAA | The Weather Channel |
| Total Named | 12 | 8 | 6-11 | 9 |
| Hurricanes | 6 | 3 | 3-6 | 5 |
| Category 3 or Higher | 3 | 1 | 0-2 | 1 |
In general, the studies attempt to forecast the number of storms that may occur anywhere in the Atlantic Ocean without predicting how many will make landfall. This is because there is no significant correlation between the number of storms and the number that make U.S. landfalls.
Several factors will affect the outcome of this hurricane season. Among the major ones is El Niño, which NOAA gives an 80% chance of persisting through the balance of 2015. Even though it is uncertain how strong El Niño will become, it is likely its effect will limit widespread tropical cyclone development in the Atlantic due to cooler Ocean temperatures and associated wind shear. Comparing the 2015 season with years that have analogous Atlantic and Pacific sea surface temperatures provides mixed results. While there was generally a low number of storms during these years, there were two major hurricanes that made landfall and caused significant damage in the U.S.
Natural Gas Production in the Gulf of Mexico
Several years ago if a major storm or hurricane made its way through the Gulf of Mexico and disrupted production (supply) it was a significant bullish price driver. In 2005, production from the Federal Offshore Gulf of Mexico accounted for almost 19% of the total Lower 48 States (continental United States). During the last 12 Months, production from the Federal Offshore Gulf of Mexico has only averaged 4% of the total U.S. Lower 48 States production. Therefore, even if a storm disrupts supply in the Gulf we do not foresee the same upward price risk as before. We would definitely expect to see a temporary knee-jerk reaction from the market if production is disrupted, but not a long lasting bullish effect.
Summary & Conclusion
Even though some weather forecasts project a relatively mild summer, forecasts are highly uncertain and the most recent model runs are calling for warmer-than-normal conditions across the Mid-West and the Mid-Atlantic states through July.
Near-term volatility is very high and prices can rise or drop drastically within a short amount of time. From April 27, 2015 to May 19, 2015, the natural gas front month contract rallied $0.66/MMBtu, or 27% due to warmer than normal temperatures. From May 19, 2015 to June 8, 2015, prices dropped $0.40/MMBtu, or 13%. Therefore having open natural gas or electricity exposures in 2015 is a risky proposition. The natural gas market continues to be oversupplied, which mitigates the risk of near term spikes; however, if NOAA's weather forecasts do not materialize, sustained above normal temperatures could balance the market and prices could rally. Buyers who elect to wait until the fall need to define not-to-exceed price targets to avoid blowing through budget projections.
Although it is uncertain what effect El Niño will play in the 2015 hurricane season, it is linked to conditions that generally exert a suppressing influence on the number of Atlantic number of named storms. Regardless, we do not see hurricane season as bullish as it used to be, as natural gas production has shifted to the shale plays.
Contact your Acclaim representative (713-524-0250 or visit our website, www.acclaimenergy.com) if you have questions about how current weather conditions could affect you and how you can develop a disciplined strategy to manage your risk and take advantage of the current, unprecedented low price environment for electricity.