As we near the end of the summer, it is worthwhile to examine trends that have had an effect on energy procurement in 2013. The focus will be specifically on the deregulated electric and natural gas markets, through the first two-thirds of 2013. The first two developments that will be covered in this blog are:
Capacity concerns in the New England Independent System Operator (ISO New England) control area and natural gas pipeline constraints

Concerns about future capacity availability in the Electric Reliability Council of Texas (ERCOT).
Each of these major developments is discussed in greater detail below.
ISO New England and capacity issues
The ISO New England (ISO-NE) area has a forward capacity market, which is designed to ensure that there is sufficient energy generation capacity to meet peak demand. In New England, this typically occurs in the winter. However, in filings with the Federal Energy Regulatory Commission (FERC), ISO-NE has expressed concerns about whether its capacity market is functioning correctly. Similar to the capacity markets in the Pennsylvania, New Jersey, Maryland (PJM) Interconnection, ISO New England administers a 3 year forward capacity market with a locational component (for more the on the PJM capacity markets, click here). ISO-NE expressed concerns that the capacity market auction results have resulted in insufficient capacity being committed to provide power during peak demand times.
The issue in ISO-NE is not only one of insufficient generation, but also the lack of infrastructure for transportation of natural gas to generation stations at times of peak demand. One of the challenges the ISO-NE has increasingly faced is that during times of peak demand, there is insufficient gas available for generators to produce sufficient electricity to meet peak demand since the natural gas is being used to heat homes and businesses first. This pipeline bottleneck results in ISO-NE trying to obtain sufficient demand response and oil fired generation to insure reliability. However, in a filing with FERC in August 2013, ISO-NE indicated a need to change its capacity market design as it was looking at a potential shortfall of roughly one million megawatt hours for the coming winter.
Regardless of the cause, there is an increased likelihood of higher prices for energy during the peak winter times in the foreseeable future. An energy adviser should focus on developing a strategy on managing capacity costs, and energy forward prices which are well correlated with the Algonquin city gate basis. It is expected though, that pipeline expansions and debottlenecking projects in the Northeast will relieve winter congestion by 2015.
Besides the issues described above, Entergy just announced the retirement of the Vermont Yankee Nuclear reactor (660MW) in 2014 due to a low natural gas environment that has pushed wholesale priced down. Some argue that low capacity prices were needed for Vermont Yankee to be profitable. While some market players claim that NE-ISO reliability will not be adversely affected, it is clear that New England will increase its reliance on NG fired units and power imports. The chart below shows how Real-time NE-ISO (e.g.WCMASS in $/MWh) spike during the summer and winter months.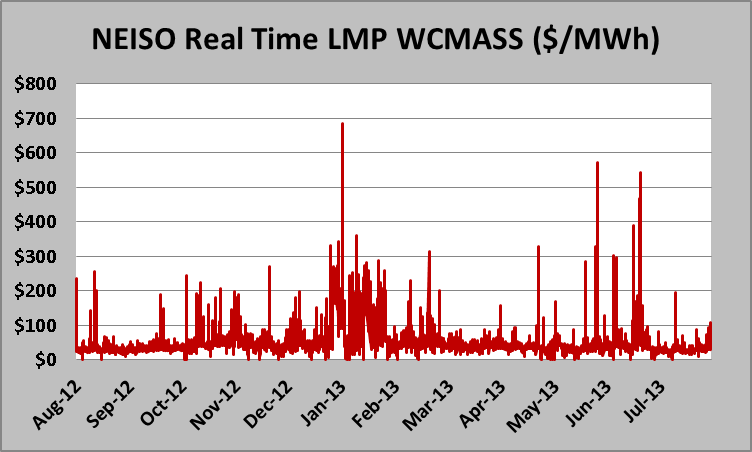 Source: NE-ISO
Future Capacity Issues in ERCOT
ERCOT oversees the Texas wholesale power markets and resource adequacy has been an increasingly "hot button" issue in the market over the past two years (for more information on resource adequacy in ERCOT, click here). While this issue has been on the table for quite some time, the seriousness of the discussion was highlighted at the Public Utility Commission of Texas (PUCT) meeting on August 9, 2013, where Chairwoman Donna Nelson and Commissioner Ken Anderson discussed whether to make a reserve margin mandatory in ERCOT and whether Texas needs a capacity market. A long-term solution will have to wait until the newly appointed Commissioner performs her due diligence on all the facts. On 8/21, Gov. Rick Perry named Brandy Marty as the third PUC commissioner. Ms. Marty is expected to be the tie breaking vote on resource adequacy and potentially a market re-design.
The PUCT is also evaluating the operating reserve demand curve solution to the challenges faced by the Texas market, known as the ORDC B+ proposal, would increase the amount of revenues that generators would be paid for providing operating reserves which can be quickly turned in to real time energy if there is an increase in the demand for power. The ORDC B+ solution is designed to encourage the development of units which can provide the operational flexibility necessary to maintain grid reliability and meet peak demand, especially in the case of an unanticipated spike in demand or the loss of one or more generating units.
Regardless of the decision, an end user should not lose focus of current market opportunities. Besides a and environment of low Natural gas prices, summer 2013 in Texas has been relatively mild, by historic standards. Moreover, healthy generation during the hottest days has provided enough supply to meet demand. Therefore, spot prices have been soft (low) and forward heat rates have shed massive risk premium that had been placed on On-Peak summer strips, not only in 2013, but also throughout 2018. The combination has resulted in lower Fixed Energy forward prices Contact your energy adviser to evaluate how to take advantage of these opportunities.
Copyright © 2013 Acclaim Energy Advisors. All content and functionality on the Site, including text, graphics, logos, icons, and images and the selection and arrangement thereof, is the exclusive property of Acclaim Energy Advisors or its licensors and is protected by U.S. and international copyright laws. All rights not expressly granted are reserved.