For years, coal has been the dominant fuel source for power generation in the U.S.. However, recent changes in the market place, including tighter emissions restrictions imposed by the Environmental Protection Agency (EPA) and low natural gas prices from abundant shale gas suppliers, threaten coal's dominance as the leading fuel source for generation. An analysis conducted by the Department of Energy (DOE) was published in August and predicted that between 35 and 60 gigawatts of coal-fired electricity generation in the eastern half of the country will be retired within the next five years. Therefore, new generation, transmission investments and reliability must run (RMR) contracts will be needed to maintain grid reliability. Natural gas fired generation will most likely fill the bulk of the gap left by the coal retirements. The impact of retirements and the higher operation costs of the remaining coal plants will trigger an increase in prices. This effect will be magnified in regions that are more dependent on coal fired generation, like the Midwest.
Why the demise of coal?
The end of the coal era is being driven by two main factors: air pollution regulations and lower natural gas costs. First, increasingly stringent air pollutant regulations, such as the Mercury Air Toxin Standards (MATS) rule are decreasing the amount of mercury and other toxins in the atmosphere. Coal plants emit approximately half of all the mercury toxins put into the air in the U.S. and are significant contributors to growing CO2 levels. As the EPA cracks down on these pollutants, owners of coal fired power plants must either install costly technology to reduce emissions or shut down the plants.
Second, the abundance of natural gas from fracking and shale formations has led to lower cost natural gas. Despite recent run-ups, natural gas traded at under $2.00/MMBtu just 18 months ago. With natural gas prices at or below current levels, power from natural gas fired power plants is more cost effective. The cost effectiveness of natural gas means that coal plants run less and hence generate less revenue. These lower revenues, combined with increasing costs of regulation, are responsible for the gradual, yet, inexorable slide of coal as the predominant fuel source.
The chart below, from the Energy Information Administration (EIA), shows that natural gas has gained market share from coal across much of the country. Renewable sources have also increased their share, especially in Texas and the West.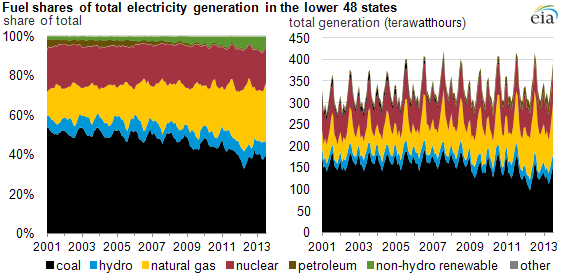 The risk of higher cost power
While increasing regulations and low natural gas prices have put pressure on coal fired generation, this is not all good news for end consumers. As natural gas fired power plants increasingly replace coal plants and continue to be looked to as the preferred option for additional generation capacity, demand for natural gas will increase. Much has been written about the current glut of natural gas and the tremendous untapped reserves of natural gas that are trapped in various geological formations; it is important to recognize that natural gas is not an inexhaustible resource.
Simply because there are sufficient supplies of natural gas does not mean that the fuel can get to where it is most needed. New England, for example, is an area that has become increasingly dependent on natural gas fired generation. The independent system operator in NE recently purchased additional oil fired capacity to insure sufficient power this winter due to the lack of transportation infrastructure for natural gas in the region. What this means is that gas prices are not driven solely by supply and demand, but also by the ability of the supply to be delivered to areas of high demand. Even though the supply may be sufficient, there are likely to be price spikes in natural gas and when that occurs, power prices tend to follow.
Since natural gas transportation infrastructure is region specific, it is possible that natural gas prices at the major trading point for natural gas, the Henry Hub, could be falling while power prices in certain regions are increasing. This contrast would be due to the specific gas costs for a particular region being higher due to transportation issues.
RMR Costs
The independent system operators (ISOs) around the country are charged not with providing the most cost efficient power dispatch, but rather with insuring that the power continues to flow to where it is needed. With the retirement of coal plants, there is a distinct possibility that the number of RMR contracts between the ISOs and specific coal generators will increase. An RMR contract is put in place when the ISO determines that a power plant is needed to maintain reliability even though that power plant would not normally be dispatched because the cost of its power is too high. The heightened price at an RMR plant would be due to either inefficiency or higher costs imposed by regulation.
Conclusion
It appears that the dominance of coal fired power in the U.S. is coming to an end and is being displaced by cleaner burning and, in some instances, cheaper natural gas fired power plants. By the end of the decade a greater demand for natural gas will boost price volatility. Beyond 2014, energy risk management professionals and their clients need to stay abreast of this evolving landscape and proactively take necessary measures to mitigate risks involved in the emergence of natural gas fired power as the primary source of electricity production in the U.S