Midwest and Northeast residents have not experienced an arctic blast of this magnitude in more than a decade. The system has moved eastward from Illinois through New England. The all-time record low in Chicago of -11˚F was recorded in 1994 and temperatures on January 6 are expected to be -6˚F, very close to such record. Not only is the storm dumping considerable amounts of snow (5" - 12"), but it is also bringing frigid, below normal temperatures with the coldest air so far this season. Temperatures are expected to be between 20˚F - 40˚F below average in large parts of the continental U.S. through next week. Moreover, sustained 15-50MPh winds are expected, so blizzard warnings have been issued in Cape Code and Long Island. An additional storm behind Hercules will keep temperatures well below normal through early next week.
Sub-zero temperatures have caused pipelines in the Northeast to reach capacity and spot prices have jumped dramatically. For example, Transco Zone 6 NY spot prices rose 102% on January 3, 2014 to $31.10/MMBtu. Weather has been the main driver of the natural gas price rally that started on November 15. The prompt month contract rose 32% to $4.58/MMBtu, on December 22. Since then, prices have dropped 6% from the high as traders took profits prior to the end of the year.
As a result of below normal temperatures in the late fall and in the early winter, there have been larger than normal withdrawals from inventory as residential and commercial heating demand has increased considerably, which has also contributed to supporting the rally. The larger than normal withdrawal trend was broken on January 3, 2014, when The U.S. Energy Information Administration reported that 97Bcf of gas was withdrawn from storage during the week ending December 27, 2013. The decline was well below last year's 126-bcf draw from storage and more than the 121Bcf 5-year average withdrawal for that same week. Therefore, the January 3, 2014 storage report was bearish on all counts. As of this writing, working gas in underground storage stands at 2,974Bcf, 15.9% lower than a year ago and 8.9% lower than the 5-year average for the same week. See chart below: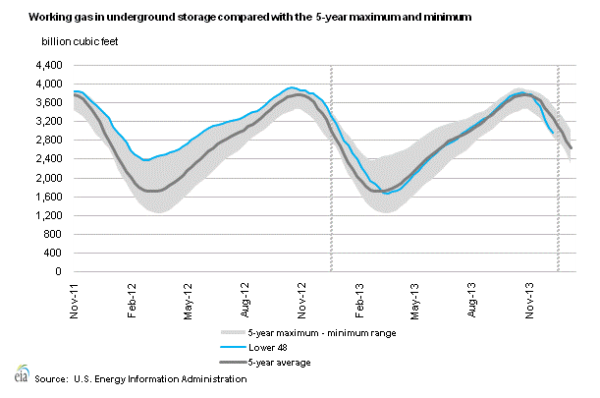 Weather forecasts are calling for cold, stormy and snowy weather to continue in the 1-5 day range, but moderate temperatures are expected in the 6-10-day range, followed by a strong warm-up in the eastern half of the country during the 8-15-day range (see map below from NOAA). Therefore, extended forecasts have shifted to bearish.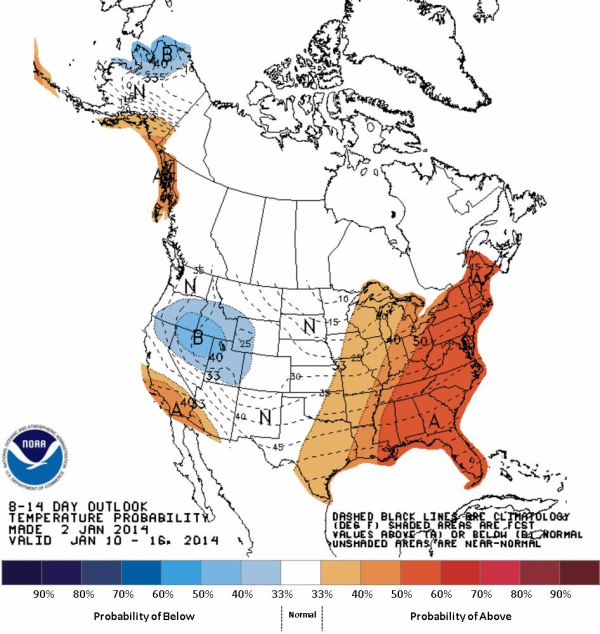 Despite a moderation in temperatures, coupled with a bearish storage report, NG futures rose 1% on January 3, 2014, after rebounding from the $4.21/MMBtu support. This has proven to be a key support level since mid-December 2013. Near-term weather continues to provide strong support, so traders are being cautious in shorting this market.
In short, shifts in weather will continue to drive near term natural gas futures price action; however, we are seeing significant technical trading around key support and resistance levels. In light of the latest long-term bearish forecasts, we expect recent gains to be limited; however, the bullish sentiment still prevails. Market sentiment could change if current weather forecasts materialize.