On October 10, 2007, the largest leveraged buy-out in American history was completed by Kohlberg Kravis Roberts, Texas Pacific Group and Goldman Sachs Capital Partners. Energy Future Holdings (EFH), executed a merger agreement to acquire all the shares of the publicly traded TXU Corp for $45 billion (32 billion plus $13billion in assumed debt). All parties agreed to the deal in February 2007, and in September 2007, TXU shareholders had approved the takeover. EFH ended up with a portfolio of competitive and regulated energy companies:
Oncor- The regulated electrical transmission and distribution business.
Luminant- The power generation and coal mining business, which owns 15,000MWs in Texas from coal, nuclear and gas powered generating plants.
TXU Energy- The competitive retail energy business.
In light of the base load nature of EFH's generation, the deal was executed under the belief that natural gas prices would remain high and that EFH would be able to profit from higher electricity clearing prices. In ERCOT, natural gas is the marginal fuel that sets the price of electricity the majority of the time. This deal was a speculative play on the spread between the differences in fuel costs. Nevertheless, the U.S. natural gas shale revolution was taking place at this time. Between 2005 and 2010, natural gas production rose by 45% per year as the technology of a technique known as hydraulic fracturing, or "fracking," improved. As a proportion of America's overall gas production, shale gas increased from 4% in 2005 to 24% by mid-2012 (source: The Economist). The chart below shows historical natural gas prices since early 2007 (source: NYMEX).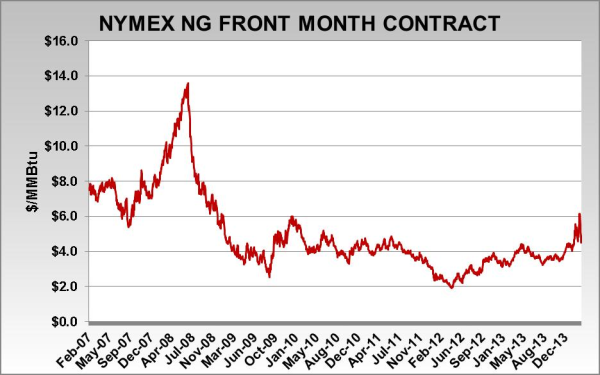 As natural gas prices tumbled, so did the "cost advantage" of EFH's power plants. With lower than expected revenues, mounting debt obligations and dwindling hopes to restructure a deal, filing for bankruptcy seems imminent. In October 2014, a debt payment of $3.8 billion matures, so with limited cash at hand, time is running out. The result of a bankruptcy would likely result in a breakup up of the subsidiaries form the holding company.
EFH could seek Chapter 11 protection as early as April if no deal can be reached with creditors. A contentious element in the restructure is the complex tax implications related to the value of the unregulated subsidiary. In the meantime, both the regulated and the competitive subsidiaries are in talks with investment banks to fund regulated and unregulated subsidiary operations through the restructure. EFH is seeking two $4 billion bankruptcy loans from Citigroup, Bank of America and Morgan Stanley.
If EFH does file for bankruptcy, it would be rank as the 10th biggest since 1980 (WSJ).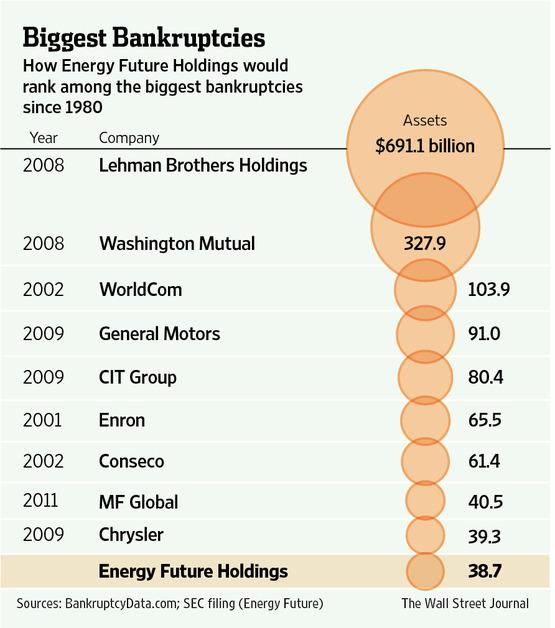 An executive at EFH stated last week that any restructuring would allow the company to keep operations intact, including its retail energy subsidiary (TXU Energy) who serves residential, commercial and industrial customers across the state (source: Houston Chronicle).
Commercial and Industrial (C&I) End Users: How can this affect you?
Events like this highlight the importance of reviewing and negotiating electricity contracts. Because of shifts in electricity prices, the termination of an electricity contract can materially affect end users' budgets. In other words, there is the potential that C&I customers could pay a higher market price, compared to their existing contract if their retail supplier cannot keep them whole. Therefore, it is in the best interest of C&I customer to be proactive when a situation like this arises. Provisions that should be reviewed ahead of a bankruptcy filing would be:
Credit
Termination

Material Breach
Remedies
Termination Calculation
Notices
Contact your energy advisor to review your current situation and to find out if there is any action that can be taken at this time to mitigate your potential exposure to higher energy prices during the balance of your contract term.
It is too early to tell how this story will end. The complexity of any restructuring scenario raises concerns as to how customer contracts will be handled. In light of the large number of customers that TXU serves in the state, we will continue to publish a series of related blogs to this story to keep you apprised as new events unfold.