A brutal cold start of the year has been followed by moderate temperatures across the country. Natural gas prices have risen significantly since early January 2014, as inventories were being depleted at a faster than normal rate due to higher than normal heating demand. Nevertheless, record production and tepid demand after the spring months triggered a massive selloff in mid-June 2014, with the front month losing more than 20 percent to date. Early concerns of tight supply conditions ahead of the next heating season have eased due to weekly record or near-record injections. Electricity prices have also plunged not only because of the recent drop in natural gas prices, but also because of a drop in heat rates. In Texas, peak load had not been this low in June and July since 2010. Low electricity demand has depressed spot and forward heat rates.
Relevant price drivers are described below.
NG Supply
On June 30, 2014, The Energy Information Administration (EIA) reported that natural gas gross production in the Lower 48 States increased by 1.3 percent, to a record 77.52Bcf/day, from March 2014 to April 2014. Texas had the largest volumetric increase at 3.8 percent or 0.86 Bcf/day primarily due to new wells coming online. The Federal Gulf of Mexico and Oklahoma also reported a gain of 4.9 percent or 0.16 Bcf/day and 3.1 percent or 0.19 Bcf/day respectively. This gain was mainly because of completed maintenance and new wells (source: EIA). For the balance of the year, the following Shale plays need to be monitored to track the pace of supply for the balance of the year:
Utica
Haynesville
Eagle Ford
Marcellus
Gas production in Utica is about 1 Bcf/day and growth from the Utica is similar to the growth in natural gas production in the Eagle Ford Shale and slightly higher than Eagle Ford in Texas. Marcellus is currently the most productive U.S. shale formation, with recent estimates of production for June 2014 at 14 Bcf/day.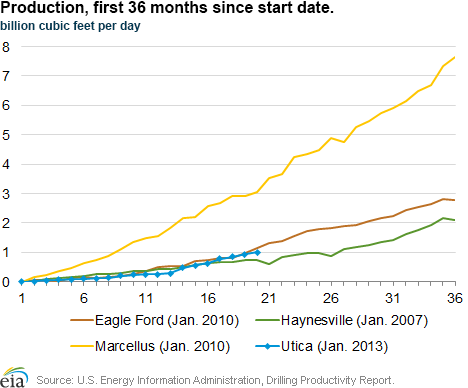 NG Demand
Unseasonably cool weather so far this summer has dampened demand for air conditioning and limited power burn from natural gas-fired generators. Based on NOAA's latest three month (AUG14-OCT14) weather forecast, it seems the trend will continue. Despite warmer than normal temperatures in the West and Southeast, below normal temperatures are expected in the Upper Midwest. Equal chances are currently projected for the Northeast.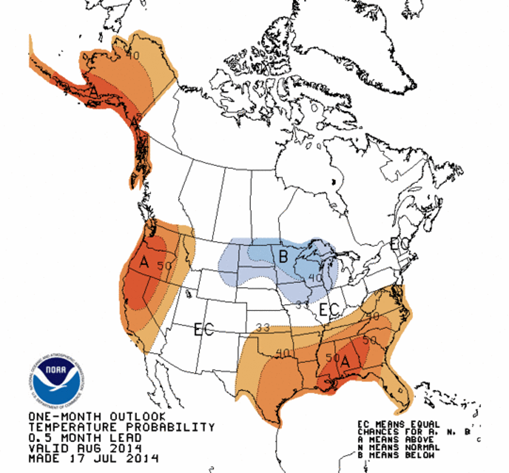 Many traders have written off this summer since lingering cooler than normal temperatures are expected during the first week of August. If weather forecasts are correct, we can expect demand for natural gas to remain in check and more natural gas molecules should flow into storage.
Storage
On April 4, 2014, natural gas inventories were at an 11-year record low (54.69 percent deficit vs, the five-year average); however, the mild weather, which has curbed natural gas demand and record production, has oversupplied the market to the tune of 3Bcf/day. Therefore, weekly injections this year have consistently outperformed historical benchmarks. As of the week ending on July 18, 2014, the deficit has narrowed to 23.5 percent. Including the week ending on July 25, 2014, there are approximately 16 more weeks remaining in the injection season. To reach EIA's projected natural gas volume in underground storage of 3,431Bcf by October 31, 2014, injections need to average 76Bcf/week. That means that injections would need to exceed the five-year average injections during the same period by 17Bcf/week. Based on the most recent weather forecasts and supply data, we believe that there is a high probability that this will happen. To reach the five-year average inventory by the end of the injection season of 3,851Bcf, injections would need to average 102Bcf, which would mean that weekly injection would need to exceed the same benchmark by 43Bcf during the peak of the summer. Therefore, inventories will most likely end close to EIA's forecast.
Recent price action shows that the market believes that by the end of October 31, 2014, natural gas inventories will be replenished to adequate levels ahead of next winter. The Nov-14 through Mar-14 strip has lost $1.00/MMBtu premium since mid-June when the market expected tight supply conditions by the end of the injection season.
Hurricane Season
On March 22, 2014, The National Oceanic and Atmospheric Administration (NOAA) released its 2014 Atlantic hurricane season forecast, which called for a near-normal or below normal season. For the six-month hurricane season, which begins June 1, NOAA predicts a 70 percent likelihood of eight to 13 named storms (winds of 39 mph or higher), of which three to six could become hurricanes (winds of 74 mph or higher), including one to two major hurricanes (Category 3, 4 or 5; winds of 111 mph or higher).
So far, this hurricane season has been relatively quiet with only one named storm (Arthur), which brushed North Carolina's coast in early July. A slow start does not necessarily mean that the rest of the season will follow suit. Recent updated forecasts continue to predict a below-average 2014 Atlantic hurricane season. The Atlantic remains cooler than normal, and El Niño seems to be developing slower than previously expected. At this time, it is hard to say how, and if, El Niño will impact this hurricane season. Nevertheless, we are heading into the peak of the hurricane season and conditions will become more conducive for the development of storms.
If a storm heads into the Gulf of Mexico, supply disruption should not be significant since natural gas production in the Gulf, as a percent of total U.S. production, has dropped from approximately 20 percent in the '90's to less than 5 percent in 2014. Even though disruptions now a days are not as significant in volume as they were before, we would expect a brief knee jerk reaction price spike.
U.S. Drought
In 2014, drought conditions have persisted and intensified in the West and Southwest. The map below shows the latest U.S. Seasonal Drought Outlook, which suggests that the trend will continue. As of July 22, 2014, 100 percent of California's territory is in a state of Severe Drought, and 81 percent of the state is in Extreme Drought. In Texas, 33.4 percent of the state is in a state of Severe Drought and 15 percent in Extreme Drought. Drought conditions favor warmer temperatures as energy from the sun is reflected to the atmosphere as opposed to humidity evaporation.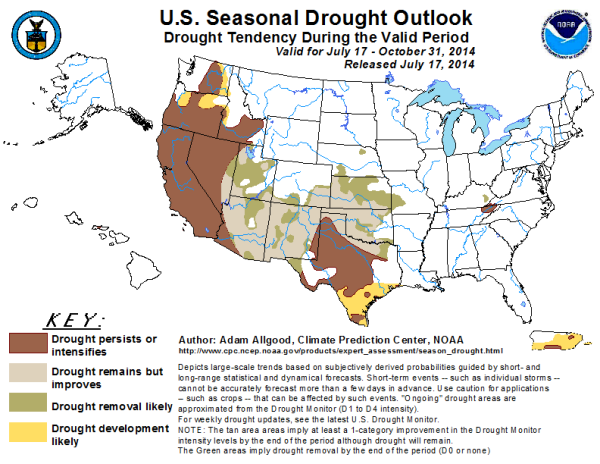 Summary
It is unbelievable how much market sentiment changed within a month and a half. The front month is trading at an eight-month low and current fundamentals suggest further weakness. Nevertheless, the market is technical in oversold territory, so any shift in weather forecasts could trigger some short covering as we saw on July 24, 2014, after EIA storage report missed analysts' estimates. If we do see a price correction, we expect that traders will sell into the rally so natural gas should remain between the $3.65/MMbtu to $4.00/MMBtu trading range in the near future. A low natural gas price environment will also translate into lower electricity prices across markets where natural gas is the marginal fuel that sets clearing spot prices.
Have questions? Click below to contact one of our energy experts today!