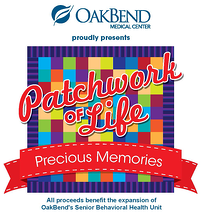 Acclaim Energy Advisors has officially signed on as a Silver Fabric Sponsor for "Patchwork of Life….Putting the Pieces Together" in support of the OakBend Medical Center.
Patchwork of Life will take place on Thursday, October 16th from 6:30pm-9:30pm at Safari Texas Ranch. The evening will include dinner and a live auction with the opportunity to purchase "patches" that will be sewn into a quilt by Pat Hebert to symbolize lasting memories of community support.
All proceeds raised will go towards the expansion of OakBend's Senior Behavioral Health Services Unit. The expansion will feature a home-like setting with comfortable furniture, art work, updated patient rooms and quiet zones for patients and visitors. "Everything from low-glare flooring and a warm color palette, to a community dining area will be designed to promote mobility and socialization - two cornerstones of recovery for the elderly patient," says Joe Freudenberger, OakBend Medical Center CEO.
Tickets are $150 and sponsorship opportunities range from $1,500 to $10,000. For ticket and sponsorship information, please call Katie Thompson at 281-341-3023 or email kthompson2@obmc.org.