Energy Insights: April 11, 2012
The supply overhang keeps pressuring NG futures lower, and there is greater market consensus that an additional 20%-30% drop is not out of the realm of possibilities.
Regarding ERCOT Heat Rates, the PUCT will be meeting tomorrow, 4/11/2012, to vote on Resource Adequacy Mitigation Actions. Heat Rates have been strong ahead of final ruling of such actions.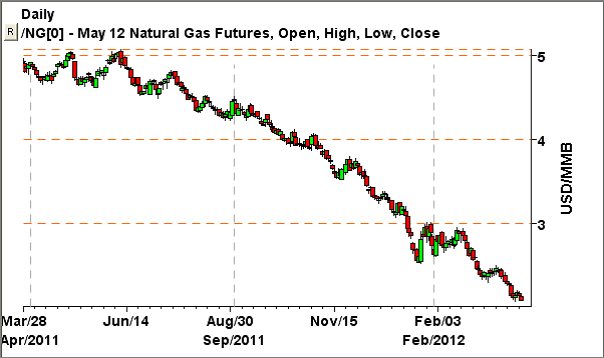 (1) May 2012 NYMEX natural gas price settled at $2.089/MMBtu,$.04/MMBtu lower from Friday 03/30/12 to Thursday 04/05/12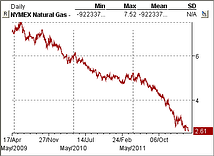 (2) 2nd half (July - December)CAL 2012 closed $0.04/MMBtu lower.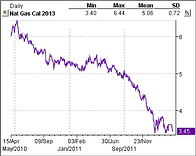 (3) CAL 2013 closed $0.02/MMBtu lower.
NATURAL GAS
Continues its relentless bearish trend as demand keeps outpacing demand. It is becoming more likely that storage capacity will be reached as early as October, so without serious production cuts there does not seem to be any factor on the demand side that could reverse the trend. Mild winter weather and the warmest March since 1895 intensified the oversupply situation.
Prompt month (May 2012 contract) reached levels that had not been seen since 1997. Staying below $2.00/MMBtu could accelerate production cuts; however, CAL13 and CAL14 are trading at $3.38/MMBtu and $3.91/MMBtu respectively where natural gas can be hedged. Likewise, crude production continues to subsidize associated natural gas output. In short, we believe that speculative traders will see any price correction (rally) as an opportunity to sell.
Clients with Heat Rate contracts should not be concerned about open natural gas exposures for the time being. Taking the front months to NYMEX expiration will keep being a profitable strategy in the coming months.
ERCOT HEAT RATES
Have been strong ahead of the 4/12/2012 PUCT meeting, where a vote will be held to determine how much the high cap (HCAP) will be raised in the coming years. Such cap is currently $3,000 the PUCT Staff draft is proposing the following changes:
• $5,000 beginning June 1, 2013
• $7,000 beginning June 1, 2014
• $9,000 beginning June 1, 2015
The two alternative cases included in the draft, to prompt stakeholder comment, would raise the HCAP as follows:
Case 1
• $4,000 before the summer of 2013
• $5,000 before the summer of 2014
• $6,000 before the summer of 2015
Case 2
• $4,500 before the summer of 2013
• $6,000 before the summer of 2014
• $7,500 before the summer of 2015
The PUCT and market stakeholders want to send price signals that incentivize the development of generation assets in the state. Therefore, the recent increase in heat rates could be seen as the new norm, at least for the next coming months. We believe, that forward heat rates (2013 and beyond) will be very sensitive to how well the grid can withstand this summer. It is worth saying, that summer heat rates have seen the largest increase.
Anyway, our bearish outlook in natural gas will warrant looking at this structure for certain customers. Below is a list of actions that ERCOT has completed and some that are pending. The first three bullets on the "Work in Progress" section will be subject to vote tomorrow at the PUCT.
ERCOT RESOURCE ADEQUACY MITIGATION ACTIONS
Completed
• Online Non-Spin standing deployment & offer floor
• Offline Non-Spin offer floor
• Responsive Reserve & Regulation Up offer floor
• Institutionalize the process to recall units for capacity
• Pricing of energy for RUC units deployed for capacity at SWCAP
• Expansion of Responsive Reserve with a corresponding reduction in Non-Spin
Work In Progress
• The proper magnitude and slope of the Power Balance Penalty Curve
• Review raising the System Wide Offer Cap
• Review Peaker Net Margin Cap
• Low Sustainable Limit problem for units RUC'ed online for capacity
• Compensation for Reliability Unit Commitments made to provide local reliability and
transmission relief and address the issue of whether and how RUC claw-back should be
adjusted
• Demand Response & Load Management Initiatives
• Posting non-binding near real-time forward prices
• Brattle Group Study
On April 15
Estimated Project Completion June 01, 2012
Contact your Acclaim representative to discuss how you can protect against these changes.