Energy Insights: May 17, 2012
Natural gas futures have risen sharply from the 10-year lows set last month. This rally has been driven by a combination of an increase in demand (mainly from coal to natural gas switching) and an increase in production cuts.
In this newsletter we are not only analyzing the factors that can sustain this rally, but also discuss the opportunities that this might bring in the Electricity space. The increase in natural gas coupled with expectations that summer temperatures could be milder than previously expected has had a negative effect on summer forward heat rates. So depending on your planning approach the market could offer good buying opportunities.
Overview

On Wednesday 5/16/2012, the
June 2012 NYMEX natural gas
price settled at $2.509/MMBtu,
$.392MMBtu higher than on
5/04/12.

2nd half (July - December)
CAL 2012 closed $0.30/MMBtu
higher.

CAL 2013 closed $0.20/MMBtu higher.
Natural Gas
Last week's rally took a breather on Monday 5/14/12, however, it gained momentum again on Tuesday. The market has clung to the same bullish factors that were discussed last week coupled with fresh news that support the recent gains:
Bullish factors:
Last week
• EIA published its Short-Term Energy Outlook (STEO), which showed that consumption of natural gas in the electric power sectors grew by almost 21% in 2012 driven by coal to gas switching in some regions.
• Injections into storage have been underperforming compared to historical levels.
• U.S. gas rig count was 598 on 5/11/2012. This is down 36% from its peak in OCT-2011.
• Large noncommercial traders cut their net short position in natural-gas futures on the New York Mercantile Exchange.

This week
• The nation's benchmark supply point Henry Hub NG-W-HH rose $.12/MMBty on Wednesday 5/16 to $2.50/MMBtu on expectations of warmer temperatures which will increase heating demand.
• Today (5/17/12), natural gas stockpiles increased by 61Bcf for the week ending on 5/11/2012, well below last year's adjusted build of 86 Bcf and the five-year average increase for that week of 91 Bcf.
• Injections continue to underperform, which signal further tightness in the market.
• U.S. industrial production data came in better than expected and is supportive of industrial natural gas consumption. This should result in an increase in Nat Gas demand.
This data begs the question - Will the rally continue? There are a couple of variables that need to be considered. First of all, as natural gas prices have risen, the economics of coal to gas switching start becoming an issue. Therefore, as the spread between the price of coal and natural gas compresses, utilities could start switching back to coal. Moreover, since cooling degree days are expected to be lower than those of last year, we believe that only further significant production cuts will be needed to sustain this rally. Therefore, we recommend monitoring technical indicators as the market reacts to new data. Remember that what was resistance is now support. In the near term, we see support and resistance for the JUNE -2012 contract at $2.51/MMBtu and $2.64/MMBtu. Therefore we continue to recommend buying on dips.

The chart below will show a couple of important technical indicators: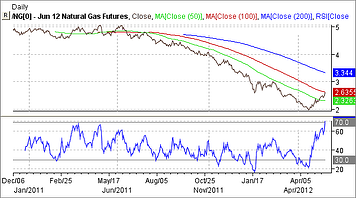 1. The JUNE-2012 contract is trading very close to the 100-day moving average, so this will be a significant resistance point.
2. 11 out of the last 14 trading sessions, the natural gas contract settled above the open. Therefore, the Relative strength index is showing an overbought signal.
Our outlook continues to be neutral for the time being.
ERCOT Heat Rates
Summer Heat Rates have been weaker as natural gas prices have increased. This would be a good opportunity to evaluate a heat rate product with the strategy of buying gas on the dip as we have described above.
Contact your Acclaim representative - to discuss how to manage your current exposures.