Over the last couple of years, significant attention has been paid to the practice of "fracking" in which a slurry of water, sand, and chemicals are injected at high pressure to crack open rock formations which hold natural gas and oil. The use of fracking has fueled the boom in natural gas production and could help the U.S. achieve energy independence by 2030 or sooner. The boom in natural gas production from fracking has kept natural gas, and therefore energy prices, lower than expected. In the mid-2000s, most analysts predicted natural gas prices would reach the $10-11/MMBTU range as compared with the current price of less than $3.50/MMBtu. In short, technology improvements have allowed producers to unlock previously uneconomic or unavailable natural gas and oil deposits in the U.S. Fracking provides substantial economic benefits across the entire U.S. economy; however, there are concerns about fracking's environmental impact which are currently being addressed to determine if this technology is to fuel future energy independence for the U.S.
The following map shows major shale formations in the U.S.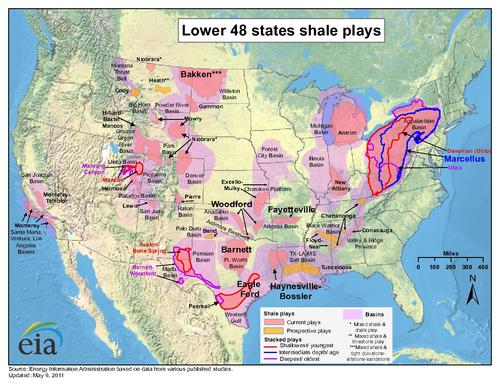 According to a 2011 study produced by the Energy Information Administration (EIA), total natural gas reserves in shale formations are 750 TCF and oil reserves are 24 billion barrels. To say that fracking is a potential game changer is to state the obvious.
While the technology has been around since the 1970s, its practice has grown exponentially in the last decade and helped push down natural gas prices in the U.S. in 2012 to 13 year record lows. As a result of fracking in shale formations, natural gas production increased 10% in 2012 versus 2011 despite a 40% drop in natural gas rig counts over the same time period.
Fracking ability to radically alter the energy landscape is not limited to reserves in the U.S. In fact, one of the biggest beneficiaries of fracking could be Israel, where fracking could allow production of 250 billion barrels of oil, roughly equivalent to Saudi Arabia's reserves. In addition, Europe is estimated to have almost as much natural gas trapped in shale formations as the U.S., although it is facing some regulatory environmental challenges.
Concerns about fracking
This technology has cracked the energy field wide open, but concerns have been raised by environmental groups about its impact, leading some states, such as New York, to impose a moratorium on fracking. However, other states are taking a more proactive approach. Recent proposed bi-partisan legislation in Illinois, home to a large shale formation, would require fracking companies to test water before, during and after fracking operations, disclose the chemical mix in their fracking slurry and allow individuals to sue if they believe that the fracking operations injured them. This bill, negotiated by industry and environmental groups, would be on the forefront of fracking legislation.
Another concern raised by fracking opponents involves the potential for fracking to cause earthquakes and geological instability. While intuitively this makes some sense since the rock formations are cracked open during the fracking process, scientific evidence indicates that the actual drilling process is not the culprit. According to a report by the National Research Council released in 2012, conventional drilling and other activities pose a higher risk of earthquakes than fracking and the report noted that only 2 earthquakes, both under a magnitude of 3.0, could be linked to seismic activity.
In conclusion
The explosion in fracking will continue to alter the energy future of the U.S. and the rest of the world as previously unavailable deposits of oil and natural gas can be exploited. Lower natural gas and electricity prices are just one benefit. While there are some concerns about the environmental impact of fracking, the early studies are inconclusive, suggesting that the benefits outweigh the environmental costs, assuming appropriate regulations are put in place.
FOR QUESTIONS CONTACT: ALBERTO RIOS, DIRECTOR ENERGY RISK MANAGEMENT
arios@acclaimenergy.com (832) 294-2506
Copyright © 2013 Acclaim Energy Advisors. All content and functionality on the Site, including text, graphics, logos, icons, and images and the selection and arrangement thereof, is the exclusive property of Acclaim Energy Advisors or its licensors and is protected by U.S. and international copyright laws. All rights not expressly granted are reserved.