Typically, the end of October is considered by many in the industry the end of the natural gas injection season; history however, paints a different picture. During the last 13 years (including 2015), there have been net injections through at least the first week of November, and in 7 of the 13 years, there have been net injections in multiple weeks in November. In 2015, we expect to see injections at least through the week ended November 13, 2015.
The chart below shows that natural gas inventories as of October 30, 2015 matched the previous inventory record of 3,929 Bcf from November 2, 2012. If current forecasts for the balance of November are accurate, above normal temperatures across the eastern half of the United States will limit heating demand and result in additional natural gas injections into storage that could push storage levels above 4,000 Bcf.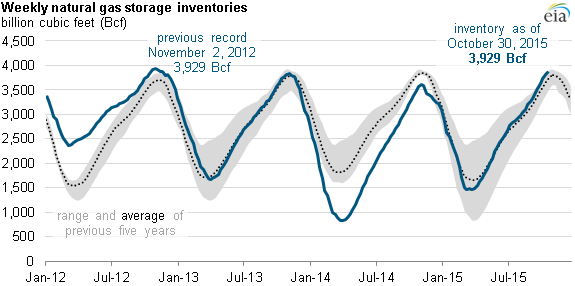 Larger than normal injections during this past summer were the result of oversupplied natural gas market conditions. Such conditions have remained in place, and reserves should continue to build over the next couple of weeks. During the 2015 injection season, supplies rose by 2,468 Bcf, exceeding the 5-year average (2,133 Bcf) through the week ended October 30 by 335 Bcf or 16%. The 2015 injection season has been the second-highest net build on record, and that of 2014 ranks first with a record overall injection of 2,780 Bcf (source: Energy Information Administration, "EIA"). Even though natural gas production has been higher on a year-over-year basis from 2014 to 2015, natural gas demand has also risen considerably. Therefore, injections during 2015 have been 10%, or 265 Bcf lower as compared to 2014.
Winter weather and the end of heating season inventory level
Mild weather has prevailed across major natural gas consuming regions so far during the 2015 fall, and it is likely that the strongest El Niño in recent history will lead to a mild winter in the Midwest and East Coast. Consequently, due to record starting inventories and expected lower than normal heating demand, EIA projects that natural gas stockpiles will end at approximately 1,900 Bcf by March 31, 2016. In 2012, the inventory level of 2,378 Bcf was recorded as the highest start of the injection season, so if EIA's forecast is accurate, 2016 would record the second-highest start of the injection season.
We must remain mindful, however, that all forecasts are based on probabilities. A much colder than expected winter outcome can significantly reduce inventories even with a low likelihood. The "Polar Vortex" of 2013-2014 serves as just such an example.
Natural Gas Price Outlook
Front-month natural gas prices have recently consolidated within a tight trading range, and have failed to break above $2.37/MMBtu. Nevertheless, even though the market has heavily discounted the winter risk premium, recent price action suggests that investors would be lured back to the market in the event of the following bullish price drivers:
Shift in weather forecasts towards cooler than previously expected

Expectations of higher heating demand due to sustained cold temperatures

Technical oversold conditions

Could trigger a short covering rally

Bargain hunting

Buyers who are seeking low prices
In short, even If the 2015-2016 winter turns out to be a mild one, there will be cold snaps that will likely boost prices as traders balance their positions. Consumers with open near-term exposures, should evaluate their risk tolerance to develop a disciplined risk management strategy that dictates how much adverse price movement can be weathered during the peak of the heating season. Getting greedy at this price level might not be the best strategy considering the risk/reward profile of the trade at this time of the year. Contact your Acclaim Energy expert to discuss if you are well positioned ahead this winter.